First Step; The First Step Series teaches English with use of songs, stories and games, aiming to motivate children for language learning. In the preparation of the series, the most up-to-date and student-centred approaches for teaching languages to young learners are adopted. The activities in the First Step Series are prepared in a way that addresses various learning types of the children.



The adoption of the approach to teach integrated skills and to attract the attention of the children by making use of fun characters are the most outstanding features of the series.
Sample PDF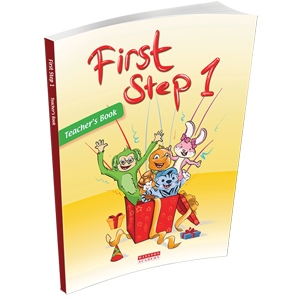 Sample PDF
Things you'll find in First Step series:
* Repetitive language structures and vocabulary
* Songs compatible with the Total Physical Response method
* Colourful and entertaining drawings
* Well-planned curriculum
* Comprehensive Teacher's Book
* Extra activities for each lesson
* Stickers, puppets, flash cards and posters



With the First Step series, children will learn English in a stress-free environment, and therefore, they will love learning languages as they are actively participating in the learning process.